Game specifications
Gameplay: Multiplayer 4VS1 stealth game
Infos: PC game, 5 players in LAN, all public
Engine: Unity 4
Timing: 2 weeks school project, 2014
Team of 5 students

Story: A tale that combines the age-old fable of "The Boy Who Cried Wolf" with the theme of Sword & Sorcery, 'Volff I: First of his Name' tells the story of a King on the night of one of his famous feasts. Attended by many, his parties are simply the definition of vanity. But none of his subjects know that the King prepares for a feast of his own. A feast for his true form, for he is a Werewolf. Fortunately, 4 Knights have arrived to put an end to his rampage.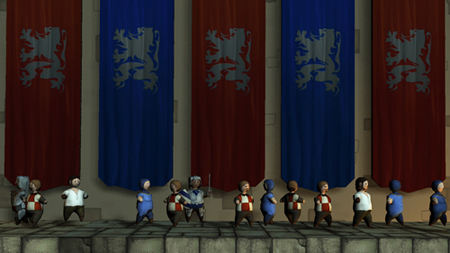 My role

- Concept art
- Environment, model and texture
- Character model, rigg and animation
Process

The "sword and sorcery" constraint pushed me toward a fantasy universe. The patterns of the castle, kings and knights came with the "drama tale" constraint. We wanted to experiment 3D for that project, seeing those two weeks as an opportunity to learn.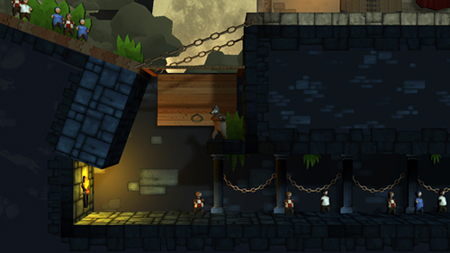 After defining the game as a side scroller, we evaluated the amount of work to produce the assets and judged it possible. As I was the only artist it was obvious that we had to think of the backgrounds and the characters in an intelligent way in order to finish the game in time.

Soon came the idea of the puppet show. A tale is the space of the spectacle, the story telling should be felt in the background itself. We built the level as a theater scene, framed with curtains, with puppets evolving within it. All the objects of the background are flat, like a slice of cardboard. You can see the cardboard texture on the side.
Bellow: puppets concept art research.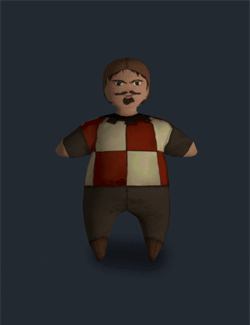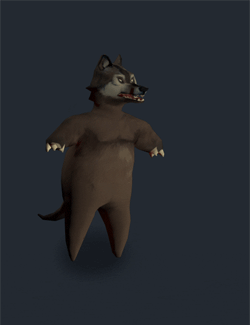 Every NPCs and the knights use the same base mesh, only the texture change and extra objects are added for the knights. This allowed to give the same animations to every characters.