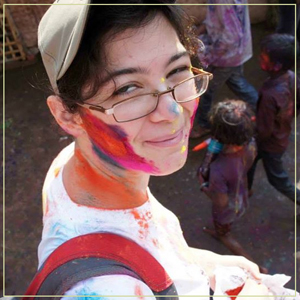 Hello!
I am a UI Artist in the Video Game industry. I am passionate about indie video games and love to create original visual universes for people to dive in. When I am not sketching, I am traveling and reading. I am eager to show you my skill set and my ability to fit in an international team!
Professional experiences

UI/UX Designer (Vancouver, CA) Oct 2017 to now
Working on live ops for Party In My Dorm (F2P social mobile game), mock up for new features, revamping of old features with latest graphic chart /// UI art, UX, wireframe, front end integration, user testing and marketing art

Concept Artist (Mauritius) March 2016 to April 2017
Full time employee on Wild factions Arena (F2P mobile strategy game) and Kitty Journey (F2P puzzle game) /// Concept art, UI art, art direction assistance and marketing art



Concept Artist on FarmVille 2 (Bangalore, IN) July 2015 to Jan 2016 (6 months)
I worked as an intern on the live ops of FarmVille 2, 1.2millions DAU farming simulation game on Facebook /// Concept art for Feature of the Week, High concept and building concept arts for my Gourmet Farm, 3D asset.


2D & 3D Video Game Artist in XIWEN Games (Nantes, FR) Summer 2014 (3 months)
I worked on the shipped title Gourmet Quest, mobile and browser culinary adventure /// 2D Assets and backgrounds, 3D low poly scene, trailer and cinematic.



Freelance Web Designer Darius 2009 – 2014 (5 years)
Web integration for printing service e-commerce website. /// Webdesign, content management, customer relationship


Graphic Designer Internship Indev - Belgium November 2012 (1 month)
Internship in the web Agency InDev. What I achieved: Front and Back end template for a CMS aimed at pharmacists, designs for printed posters, logo design, drawing and animation for company e-card. /// Webdesign, logo design, 2D animation

Skills:
• UI Art
• Wireframing
• Graphic design
• Marketing Art/ASO
• 2D assets creation
• UX (User research, Testing, Survey writing)
• Video editing
• Basic 3D modelling
• Basic 2D/3D animation

Software:
2D pipeline: Photoshop, Illustrator, Flash/Animate, Adobe XD, Inkscape, Gimp
Others: After Effects, Premiere, Perforce, Git

Engines: Unreal Engine 4, Unity4 and 5, Construct 2, UDK3

Programming languages: HTML, CSS, Processing
Video game experiences
Those Who Wander Diploma project 2014-15


Lead artist, Concept artist, 3D and 2D - team of 7 students. UE4
• Concept art
• 3D characters modelling, texturing, rigging
• 3D environment
• Texturing from high poly, UE4 Material creation


Volff I - First of his Name February 2014
3D game artist, Lead artist - Unity 3D multiplayer game.
• Concept art and universe
• 3D characters modeling, texturing, animating
• 3D environment

.ORG Viope Contest - mobile game 2013 - 2014
Lead artist - 2D Mobile game
• Concept art
• Definition of the graphics style
• 2D assets and animations


Where is my mine?! Nasscom BYOG – 66hours game jam 2013
Honorable Mention Lead artist - 2D multiplayer game on construct 2
• Concept art for the game / Definition of the graphic style
• 2D background and props in pixel art
• Logo design

Dori's Quest Zynga HackDay 2015 / Lead and concept artist - Won the Show-Offs (Most up voted game by Studio-I employees) - Unity5

Euphoric Sentience UNESCO MGIEP Gaming Challenge 2015 Concept Artist, assistant game designer - Game concept document, won the first round of the challenge
Strength:
• Love team work
• Agile methodology
• Curious and passionate
• Intercultural experiences
• Understands the work of the other game departments

Language:
French: Mother tongue
English: Fluent
German & Spanish: Conversational
Mandarin & Hindi: Foundations
Education

Aug 2013 - 2015 Rubika Supinfogame – Pune (India) Master Management & Game Art


Jan to april 2013 Srishti School of Art, Design & Technology – Bangalore (India) Exchange program in Animation school


Sept 2008 - dec 2012 The High School of Art and Design - Saint-Etienne (France) DNAP in Art option (bachelor in fine art)
2008 Scientific Baccalaureat (First Degree diploma), option Mathematics (cum laude) Lacassagne, Lyon (France)