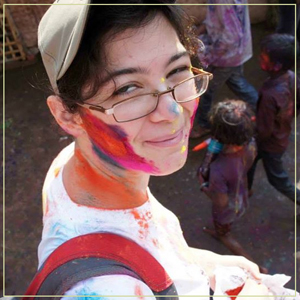 Hello!
I am a Concept Artist in the Video Game industry. I am passionate about indie video games and love to create original visual universes for people to dive in. When I am not sketching, I am traveling and reading.
Professional experiences

Concept Artist (Mauritius) March2016 to now
I am a full time employee on Wild factions Arena (Free to play mobile strategy game) and an unannounced puzzle game /// Concept art, UI art, art direction assistance and marketing art



Concept Artist on FarmVille 2 (Bangalore, IN) July2015 to Jan2016 (6 months)
I worked on the live ops of FarmVille 2, 1.2millions DAU farming simulation game on Facebook /// Concept art for Feature of the Week, High concept and building concept arts for upcoming bold beat, 3D asset.


2D & 3D Video Game Artist in XIWEN Games (Nantes, FR) Summer 2014 (3 months)
I worked on the shipped title Gourmet Quest, mobile and browser culinary adventure /// 2D Assets and backgrounds, 3D low poly scene, Trailer and cinematic.



Freelance Web Designer Darius 2009 – 2014 (5 years)
Web integration for printing service e-commerce website. /// Webdesign, content management, customer relationship


Graphic Designer Internship Indev - Belgium November 2012 (1 month)
Internship in the web Agency InDev. What I achieved: Front and Back office template for a CMS aimed at pharmacists, several printed posters valuing the work of the company, a logo for a client of the agency, conception and drawing of an animation for the electronic greetings card. /// Webdesign, Logo design, 2D animation

Skills:
• Concept Art
• 2D assets creation
• UI
• Graphic design, web design
• Video editing
• Basic 3D modeling
• Basic 2D/3D animation

Software:
2D pipeline: Photoshop, Illustrator, Flash, Inkscape, Gimp
3D pipeline: 3DS Max, Zbrush, Xnormal, Blender
Others: After Effects, Premiere, Office Suite, Perforce, Git

Engines: Unreal Engine 4, Unity4 and 5, Construct 2, UDK3

Programming languages: HTML, CSS, Processing
Video game experiences
Those Who Wander Diploma project 2014-15


Lead artist, Concept artist, 3D and 2D - team of 7 students. UE4
• Concept art
• 3D characters modelling, texturing, rigging
• 3D environment
• Texturing from high poly, UE4 Material creation


Volff I - First of his Name February 2014
3D game artist, Lead artist - Unity 3D multiplayer game.
• Concept art and universe
• 3D characters modeling, texturing, animating
• 3D environment

.ORG Viope Contest - mobile game 2013 - 2014
Lead artist - 2D Mobile game
• Concept art
• Definition of the graphics style
• 2D assets and animations


Where is my mine?! Nasscom BYOG – 66hours game jam 2013
Honorable Mention Lead artist - 2D multiplayer game on construct 2
• Concept art for the game / Definition of the graphic style
• 2D background and props in pixel art
• Logo design

Dori's Quest Zynga HackDay 2015 / Lead and concept artist - Won the Show-Offs (Most up voted game by Studio-I employees) - Unity5

Euphoric Sentience UNESCO MGIEP Gaming Challenge 2015 Concept Artist, assistant game designer - Game concept document, won the first round of the challenge
Strength:
• Love team work
• Agile methodology
• Curious and passionate
• Intercultural experiences
• Understands the work of the other game departments

Language:
French: Mother tongue
English: Fluent
German: Conversational
Chinese & Hindi: Foundations
Education

Aug 2013 - 2015 Rubika Supinfogame – Pune (India) Master Management & Game Art


Jan to april 2013 Srishti School of Art, Design & Technology – Bangalore (India) Exchange program in Animation school


Sept 2008 - dec 2012 The High School of Art and Design - Saint-Etienne (France) DNAP in Art option (bachelor in fine art)
2008 Scientific Baccalaureat (First Degree diploma), option Mathematics (cum laude) Lacassagne, Lyon (France)